In our first blog post in this seven part series, we delved into the primary elements and processes to build a successful brand; beginning with research. In this installment, we'll dive a bit deeper into the second phase of brand building – focus.
Seven Stages Of Branding 101
Research
Focus
Name
Position
Palette
Logo
Evolution
Successful brands can't thrive without maintaining consistency in all these features as it grows in the marketplace. With the future at stake, taking time to clearly define what that consistency is in detail will help guide the feelings you want to convey.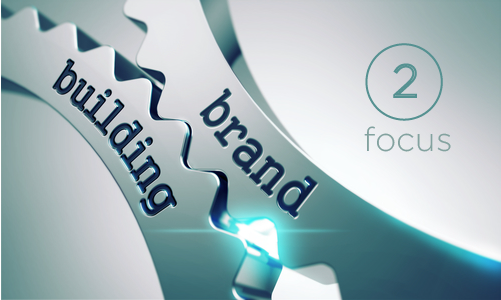 2. Clearly Define Your Focus And Personality
Like people, your brand cant' be everything to everyone – especially when you're just getting started. It's critical that you determine your unique focus at the very beginning, which will drive the positioning of all your brand's integrated parts.
Here are some questions and branding exercises to get you thinking about the focus and tone of your brand.
Let's start with your positioning statement:
A positioning statement is a short statement that that stakes your claim in today's market. You may not be including this on all your collateral (we'll get to that later), but serves as a start to answer some questions about your brand.
Your positioning statement might go something like…
We offer [product or service] for [target market] to [value proposition]. Unlike [the alternative/competition], we [key differentiators].
For example: We offer apparel for athletes to increase their performance while reducing their need for additional equipment. Unlike other athletic apparel brands, we give back to community causes for every item purchased.
Your Unique Selling Proposition (or USP) is the one thing that sets you apart from the competition. Take time to discover it, delve into it, and make it a core value to your brand's message.
Alternatively, if the company you want to start has a cause at its core (e.g. if you're starting a socially focused business), you might consider writing this as your mission statement that clearly promises the benefits of your brand to your customers and the public at large.
Define the words that describe your brand:
What if your brand were a person. What personality traits would your target market be interested in? What would your brand feel like to be human?
This exercise will help craft and direct social media "voice" and the entire tone of your creative – both written and visually.
One easy, entertaining way to do this is to pick a handful of adjectives that describe your brand. Here's a short list to help get you started: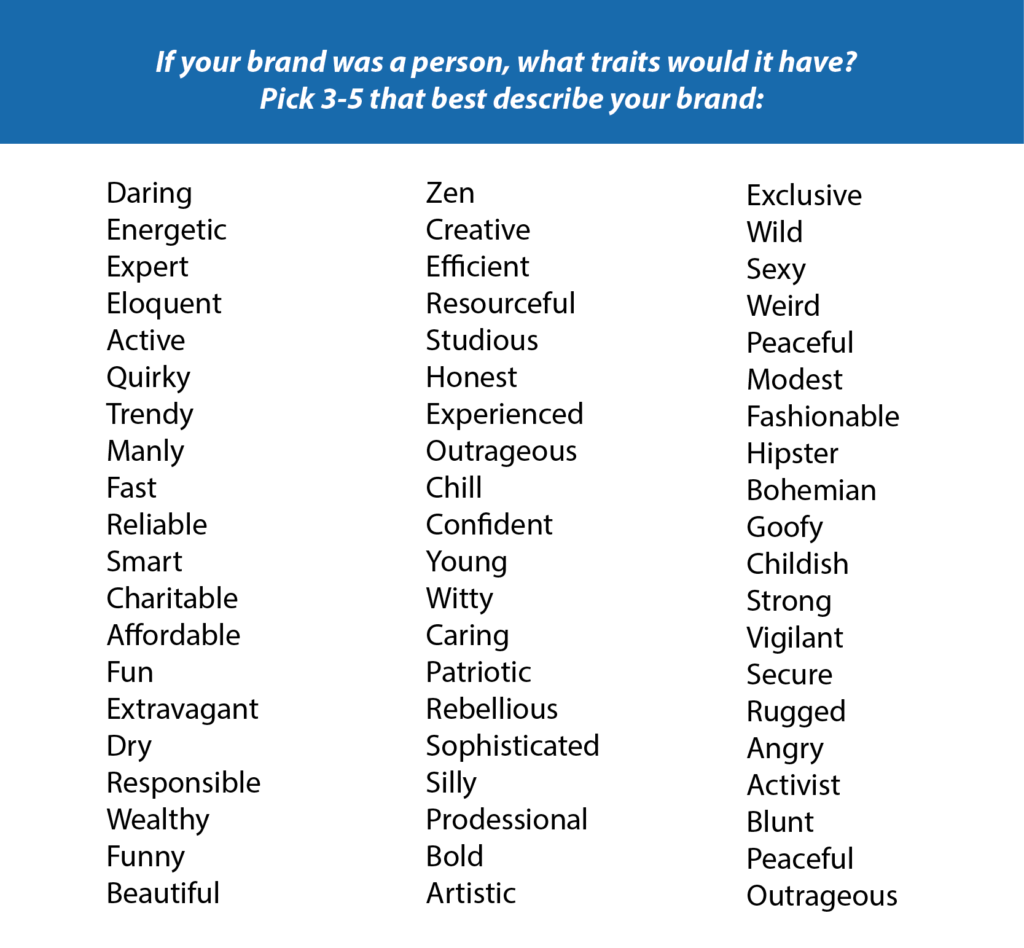 This is by no means a comprehensive list of attributes for your brand. You can choose those not on any list that you feel best describes your product or service. Be careful not to choose more than a handful of attributes – because as I said before, you can't be all things to all people.
Describe your brand in metaphor:
Considering your brand as a metaphor can help you clearly identify the specific qualities you want it to be associated with.
This can be just about anything from a car, an animal, a personality, a team, anything — as long as it remains the prominent reputation in your mind that summons the sort of characteristics of your brand you envision.
As an example, if you wanted to create a brand for start-up entreprenuers, you might choose a coyote as your metaphor. They're survivors willing to do just about anything to thrive, and they work collaboratively to get it done.
The possibilities of this metaphor are endless – but choose one carefully and run it by impartial friends who will give you truly honest feedback at this early stage in your brand's development.
In our next post, we'll dive into a crucially important step in developing your brand – naming it. Please come back again and we'll take the next step together in the process of building a brand you'll be proud to call your own.